I love new things!
8th June 2012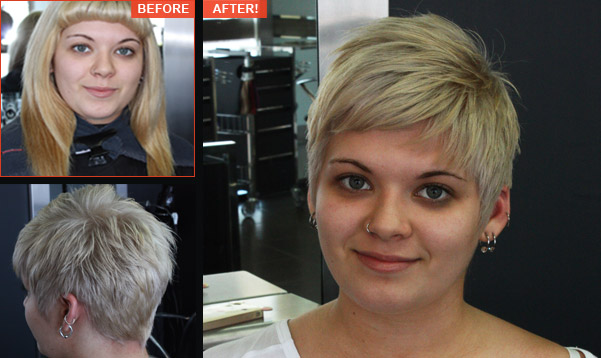 There's no greater feeling than examining a new purchase...
Or smelling the leather on a new purse or handbag or checking yourself out in the mirror after a great new 'do'.I thought since this is the launch of our brand spankin' new website; "all things new" would be a fitting theme.
Something that I really try and encourage my lovely team to do is constantly suggest new ideas to our clients, sometimes they're open to change and sometimes there is hesitation and sometimes they come in wanting a complete overhaul - as was the case with my beautiful client, Emma. She's a total pocket rocket; quirky sense of style and killer taste in music.
She reminds me so much of myself when I was her age! I hadn't seen her in a while and when she walked in I hardly recognised her - her gorgeous dark brown hair was ...ahem... a lovely shade of brassy blonde and, after a little DIY, was sporting a very short full fringe. Hmmmmm... Challenge accepted! Her request was "chop it all off and make it as blonde as possible"... (hairdressers wet dream!). We threw around some ideas - a Michelle Williams/Carey Mulligan type crop with a Pixie Geldof edge to it. And (drumroll please).... here's the result! What do you think?
Have you ever wanted to do something completely fabulous to your hair?
We'd love to hear about your hair fantasies... Tell us it now!