WIN! An Enlightening Experience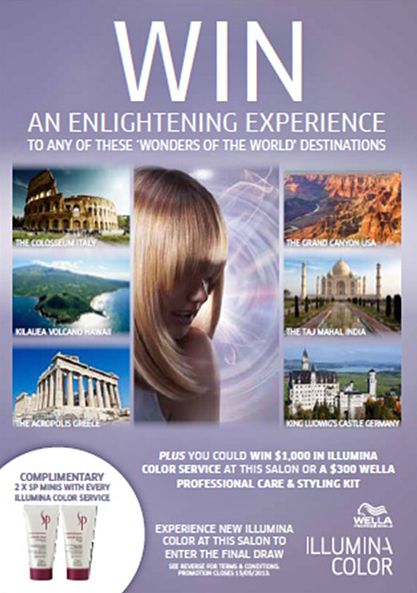 Wella are super generous folk!
To coincide with the launch of their mind-blowingly good colour range - Illumina, Wella are giving you the chance to win "an Enlightening Experience" to any of the following Wonders of the World destinations:
The Colosseum, Italy
Kilauea Volcano, Hawaii
The Acropolis, Greece
The Grand Canyon, USA
The Taj Mahal, India
King Ludwig's Castle, Germany
Not only are they handing out sweet holidays - But they're also giving you the chance to win $1000 in Illumina Colour Services at our salon. Or a $300 Wella Professional Care and Styling Kit. How awesome does that sound?
All you need to do to enter the draw is pop into Wish Hair Studio for any Illumina Colour Service. It's as easy as that! As an added bonus, you will receive a complimentary mini SP Shampoo and Conditioner with each Illumina service. AHHHH too much radness in one competition!!
What are you waiting for! Book your Illumina service today - entries close 10/05/2013 - fingers crossed you'll be the lucky winner!